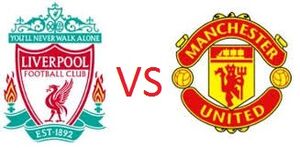 The Liverpool-Manchester United rivalry is the a rivalry between the two most successful clubs in English football. There had always been a rivalry between the two due to the historical inter-city rivalry, but it was exacerbated in the 1990s, a time when Liverpool began to fall and Manchester United started to rise again under Sir Alex Ferguson.
Matches between the two tend to be very heated affairs both on and off the pitch. Historically there has been trouble between the supporters regarding chants over both the Hillsborough disaster and the Munich air disaster, leading to pleas from the football clubs themselves to keep abuse away from the dead.
The last meeting between the sides was on 19 January 2020, a 2-0 Liverpool victory at Anfield.
The fixture was first contested on 28 April 1894, when Liverpool beat a Newton Heath side 2-0. Since it's beginning it has been played 204 times. Liverpool have won the fixture 67 times with United winning 80 times. It has been tied 57 times.
Biggest victory: Liverpool 7-1 at Anfield in the 1895-96 season.
Highest scoring match: 7-4 Liverpool win at Anfield in the 1907-08 season.
Most appearances: Ryan Giggs of Man Utd with 48.
Most Liverpool goals: Steven Gerrard with 9 goals.
Most Man Utd goals: George Wall and Sandy Turnball with 9 goals.