We're Getting Mutants in the MCU - The Loop
Play Sound
The Hillsborough disaster is a human disaster that occurred on 15 April 1989 at Sheffield Wednesday's Hillsborough Stadium. The disaster took place in an FA Cup semi-final between Liverpool and Nottingham Forest. 97 Liverpool fans were killed as a result of the disaster, and a further 766 were injured.
Disaster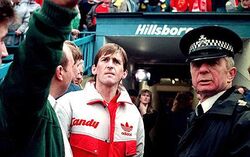 The situation arose when several thousand Liverpool fans were entering the Leppings Lane End of the stadium via old turnstiles. The viewing areas for Liverpool fans were quickly filled, even beyond their recommended capacity. Many fans trying to enter the stadium were turned away, but due to the number of people behind them, had nowhere to exit, meaning they had to continue into the stadium. In an attempt to alleviate the volume of people, a gate was opened, but this had the undesired effect of more people rushing into the stadium.
This resulted in people having to be directed through a tight tunnel into the already overcrowded viewing areas which caused a huge crush at the containing fence at the front of the stand. The majority of fans were able to reach safety by climbing the containing fence, going through a small gate which had been opened, and some were lifted to the above stand by fellow supporters. Many however, were unable to flee and were crushed as a result. 94 fans were killed on that day, with a further three fans dying in hospital at a later date. The widely accepted reason for the disaster is poor policing, due to poor crowd management and lack of stadium safety checking.
Aftermath
Taylor Report
As a result of the disaster, the Taylor Report into stadium safety was published. The report stipulated that all containing fences at the front of stands be removed, and for the top two divisions in England and Scotland to be made all-seater.
Memorials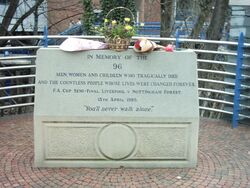 After the tragedy many memorials were unveiled, including one beside the Shankly Gates at Anfield and one at the Hillsborough Stadium itself (pictured). An annual ceremony is held on 15 April at both Anfield, and a Liverpool church. The Liverpool badge was changed in 1992 with the addition of two flames to signify the Disaster.
The Sun
Shortly after the event, The Sun tabloid newspaper released a headline saying "The Truth", along with three sub-headings which read "Some fans picked pockets of victims", "Some fans urinated on the brave cops" and "Some fans beat up PC giving kiss of life". These comments led to the widespread boycott of the newspaper, which is still in action to this day and is commonly referred to by Liverpudlians as "The Scum". Since the disaster, The Sun have made a public apology but the editor at the time, Kelvin MacKenzie, still refuses to apologise for the story.