Jurassic World: Dominion Dominates Fandom Wikis - The Loop
Play Sound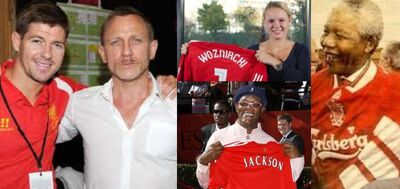 There are a host of famous Liverpool supporters, below is a list of just some of them:
Nelson Mandela- The former South-African president met the squad in 1994 and was presented with a shirt by John Barnes. He then admitted he was a fan of the club.
Daniel Craig- Born in Chester but raised on Merseyside, the James Bond actor is a big Liverpool fan. He idolises captain Steven Gerrard and before one game, the skipper waited for Craig in the Liverpool foyer wanting his photograph taken with "Agent 007".
Samuel L. Jackson- The American actor began following the Reds after he starred in cult movie 'The 51st State', which was filmed in Liverpool. Jackson even went to Anfield to watch a Merseyside Derby clash against Everton. He recalls: "I went to see the derby game when I was there, against Everton. That was cool. I enjoyed that."
Angelina Jolie- Former wife of actor, musician and LFC fan, Billy Bob Thornton, the actress has continued to follow the Reds despite their separation. Her son Maddox is a huge Liverpool fan and 'only wants to play for Liverpool'. Thornton's passion for the club stems from his love for the city. "I love that town, they're my kind of people," he says.
Mike Myers- The Austin Powers star, who was born in Canada in 1963, is a life-long Liverpool fan. He grew up in Toronto, but his parents both originated from the Old Swan area of Liverpool. "I was the only kid in Toronto to wear an olive-green Nehru jacket and support Liverpool FC," he told LFCToronto.com
Dr. Dre- The American rapper and record producer started following the Reds whilst on a promotional tour in London back in 1988. He was watching TV when, according to him, "The cool cats in red came on". Dre cites John Barnes as his favourite player but referred to Patrik Berger as 'The Nomb!' in a 2001 interview.
LeBron James- The world famous American basketball player became a minority stakeholder in the club after he struck a deal with Liverpool owners Fenway Sports Group. He later went on to show his new-found love for the Reds by wearing a Liverpool polo shirt in one of his post-match press conferences following an NBA game back in the US.
There are hundreds more famous L.F.C. fans including Caroline Wozniacki, Lana Del Rey, Kamil Stoch, Spice Girls Member: Melanie C, WWE wrestler Sheamus and Kim Catrall. Including more understandable fans like John Bishop and Ricky Tomlinson.