2010-11 season
General information
Manager
Captain
Performance
Premier League

6th

FA Cup

3rd round

League Cup

3rd round

Europe

Europa League: Last 16

Top scorers
League

Kuyt (13)

FA Cup

None

League Cup
Europe

Europa League: N'Gog (5)

Overall

Kuyt (15)

Attendances
Highest

44,975

Lowest

35,400

Average

42,820
The 2010-11 season was Liverpool's 119th season of football since they were established. The season started disappointingly under Roy Hodgson, and Liverpool were languishing towards the bottom of the table by New Year. With the replacement of him by Kenny Dalglish however, Liverpool were sparked into life, and put a run in propelling themselves to 6th in the table, narrowly missing out on Europe. Liverpool performed poorly in the cups, being knocked out of both at the first hurdle.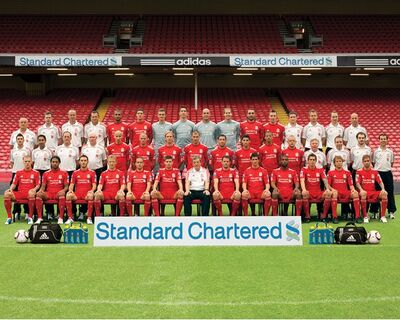 FriendliesEdit
Pre-seasonEdit
| Date | Opponent | Score | Scorers |
| --- | --- | --- | --- |
| 21 July 2010 | Grasshoppers | 0-0 | |
| 24 July 2010 | Kaiserslautern | 0-1 | |
| 1 August 2010 | Borussia Mönchengladbach | 0-1 | |
Other friendliesEdit
| Date | Opponent | Score | Scorers |
| --- | --- | --- | --- |
| 15 August 2010 | Arsenal | 1-1 | N'Gog (46) |
| 23 August 2010 | Man City | 0-3 | |
| 29 August 2010 | West Brom | 1-0 | Torres (65) |
| 12 September 2010 | Birmingham | 0-0 | |
| 19 September 2010 | Man Utd | 2-3 | Gerrard (pen 64, 70) |
| 25 September 2010 | Sunderland | 2-2 | Kuyt (5), Gerrard (64) |
| 3 October 2010 | Blackpool | 1-2 | Kyrgiakos (53) |
| 17 October 2010 | Everton | 0-2 | |
| 24 October 2010 | Blackburn | 2-1 | Kyrgiakos (48), Torres (53) |
| 31 October 2010 | Bolton | 1-0 | Maxi (86) |
| 7 November 2010 | Chelsea | 2-0 | Torres (11, 44) |
| 10 November 2010 | Wigan | 1-1 | Torres (7) |
| 13 November 2010 | Stoke | 0-2 | |
| 20 November 2010 | West Ham | 3-0 | Johnson (18), Kuyt (pen 27), Maxi (38) |
| 28 November 2010 | Tottenham | 1-2 | Skrtel (42) |
| 6 December 2010 | Aston Villa | 3-0 | N'Gog (14), Babel (16), Maxi (55) |
| 11 December 2010 | Newcastle | 1-3 | Kuyt (49) |
| 29 December 2010 | Wolves | 0-1 | |
| 1 January 2011 | Bolton | 2-1 | Torres (49), Cole (90) |
| 5 January 2011 | Blackburn | 1-3 | Gerrard (81) |
| 12 January 2011 | Blackpool | 1-2 | Torres (3) |
| 16 January 2011 | Everton | 2-2 | Meireles (29), Kuyt (pen 68) |
| 22 January 2011 | Wolves | 3-0 | Torres (36, 90), Meireles (50) |
| 26 January 2011 | Fulham | 1-0 | Paintsil (og 52) |
| 2 February 2011 | Stoke | 2-0 | Meireles (47), Suarez (79) |
| 6 February 2011 | Chelsea | 1-0 | Meireles (69) |
| 12 February 2011 | Wigan | 1-1 | Meireles (24) |
| 27 February 2011 | West Ham | 1-3 | Johnson (84) |
| 6 March 2011 | Man Utd | 3-1 | Kuyt (34, 39, 65) |
| 20 March 2011 | Sunderland | 2-0 | Kuyt (pen 33), Suarez (77) |
| 2 April 2011 | West Brom | 1-2 | Skrtel (50) |
| 11 April 2011 | Man City | 3-0 | Carroll (13, 35), Kuyt (34) |
| 17 April 2011 | Arsenal | 1-1 | Kuyt (pen 90) |
| 23 April 2011 | Birmingham | 5-0 | Maxi (7, 66, 73), Kuyt (23), Cole (86) |
| 1 May 2011 | Newcastle | 3-0 | Maxi (10), Kuyt (pen 59), Suarez (65) |
| 9 May 2011 | Fulham | 5-2 | Maxi (1, 7, 70), Kuyt (16), Suarez (75) |
| 15 May 2011 | Tottenham | 0-2 | |
| 22 May 2011 | Aston Villa | 0-1 | |
| Round | Date | Opponent | Score | Scorers |
| --- | --- | --- | --- | --- |
| 3 | 9 January 2011 | Man Utd | 0-1 | |
League CupEdit
Round
Date
Opponent
Score
Scorers
3
22 September 2010
Northampton
2-2
Jovanovic (9), N'Gog (116)
Northampton win 4-2 on penalties
Europa LeagueEdit
Qualifying stagesEdit
| Round | Date | Opponent | Score | Scorers |
| --- | --- | --- | --- | --- |
| 3 (1st leg) | 29 July 2010 | Rabotnicki | 2-0 | N'Gog (17, 59) |
| 3 (2nd leg) | 5 August 2010 | Rabotnicki | 2-0 | N'Gog (22), Gerrard (pen 40) |
| Play-off (1st leg) | 19 August 2010 | Trabzonspor | 1-0 | Babel (45) |
| Play-off (2nd leg) | 26 August 2010 | Trabzonspor | 2-1 | Kacar (og 83), Kuyt (88) |
Group stageEdit
| Date | Opponent | Score | Scorers |
| --- | --- | --- | --- |
| 16 September 2010 | Steaua Bucharest | 4-1 | Cole (1), N'Gog (pen 55, 90), Lucas (81) |
| 30 September 2010 | Utrecht | 0-0 | |
| 21 October 2010 | Napoli | 0-0 | |
| 4 November 2010 | Napoli | 3-1 | Gerrard (75, pen 88, 89) |
| 2 December 2010 | Steaua Bucharest | 1-1 | Jovanovic (19) |
| 15 December 2010 | Utrecht | 0-0 | |
Knockout stagesEdit
| Round | Date | Opponent | Score | Scorers |
| --- | --- | --- | --- | --- |
| Last 32 (1st leg) | 17 February 2011 | Sparta Prague | 0-0 | |
| Last 32 (2nd leg) | 24 February 2011 | Sparta Prague | 1-0 | Kuyt (86) |
| Last 16 (1st leg) | 10 March 2011 | Braga | 0-1 | |
| Last 16 (2nd leg) | 17 March 2011 | Braga | 0-0 | |
Player statsEdit
Player awardsEdit
| Pos | Club | Pld | W | D | L | F | A | GD | Pts |
| --- | --- | --- | --- | --- | --- | --- | --- | --- | --- |
| 5 | Tottenham | 38 | 16 | 14 | 8 | 55 | 46 | 9 | 62 |
| 6 | Liverpool | 38 | 17 | 7 | 14 | 59 | 44 | 15 | 58 |
| 7 | Everton | 38 | 13 | 15 | 10 | 51 | 45 | 6 | 54 |
Europa League group stage
| Pos | Club | Pld | W | D | L | F | A | GD | Pts |
| --- | --- | --- | --- | --- | --- | --- | --- | --- | --- |
| 1 | Liverpool | 6 | 2 | 4 | 0 | 8 | 3 | 5 | 10 |
| 2 | Napoli | 6 | 1 | 4 | 1 | 8 | 9 | −1 | 7 |
| 3 | Steaua Bucharest | 6 | 1 | 3 | 2 | 9 | 11 | −2 | 6 |
| 4 | Utrecht | 6 | 0 | 5 | 1 | 5 | 7 | −2 | 5 |
TransfersEdit
| Player | From | Fee | Date |
| --- | --- | --- | --- |
| Jonjo Shelvey | Charlton | £1,700,000 | 10 May 2010 |
| Milan Jovanovic | Standard Liege | Free | 8 July 2010 |
| Joe Cole | Chelsea | Free | 21 July 2010 |
| Danny Wilson | Rangers | £2,000,000 | 21 July 2010 |
| Fabio Aurelio | Free Agent | Free | 31 July 2010 |
| Christian Poulsen | Juventus | £4,550,000 | 11 August 2010 |
| Brad Jones | Middlesbrough | £2,300,000 | 18 August 2010 |
| Raul Meireles | Porto | £11,500,000 | 29 August 2010 |
| Paul Konchesky | Fulham | £3,500,000 | 31 August 2010 |
| Luis Suarez | Ajax | £22,800,000 | 31 January 2011 |
| Andy Carroll | Newcastle | £35,000,000 | 31 January 2011 |
| Player | To | Fee | Date |
| --- | --- | --- | --- |
| Mikel San Jose | Athletic Bilbao | £2,600,000 | 19 May 2010 |
| Fabio Aurelio | — | Released | 1 July 2010 |
| David Martin | MK Dons | Free | 1 July 2010 |
| Yossi Benayoun | Chelsea | £6,000,000 | 2 July 2010 |
| Albert Riera | Olympiacos | £3,300,000 | 23 July 2010 |
| Diego Cavalieri | Cesena | £3,000,000 | 23 August 2010 |
| Krisztian Nemeth | Olympiacos | £1,000,000 | 25 August 2010 |
| Javier Mascherano | Barcelona | £17,250,000 | 30 August 2010 |
| Lauri Dalla Valle | Fulham | £750,000[6] | 31 August 2010 |
| Alex Kacaniklic | Fulham | £750,000[7] | 31 August 2010 |
| Damien Plessis | Panathinaikos | Undisclosed | 31 August 2010 |
| Charles Itandje | Atromitos | Free | 1 January 2011 |
| Ryan Babel | Hoffenheim | £5,800,000 | 25 January 2011 |
| Fernando Torres | Chelsea | £50,000,000 | 31 January 2011 |