2008-09 season
General information
Manager
Captain
Performance
Premier League

2nd

FA Cup

4th round

League Cup

4th round

Europe

Champions League: Quarter-final

Top scorers
League

Gerrard (16)

FA Cup
League Cup
Europe

Champions League: Gerrard (7)

Overall

Gerrard (24)

Attendances
Highest

44,424

Lowest

28,591

Average

42,623
The 2008-09 season was Liverpool's 117th season of football since they were established. The second place finish in this season was Liverpool's best league finish since the 2001-02 season. Liverpool managed to complete the double over rivals Man Utd win 2-1 and 4-1 wins.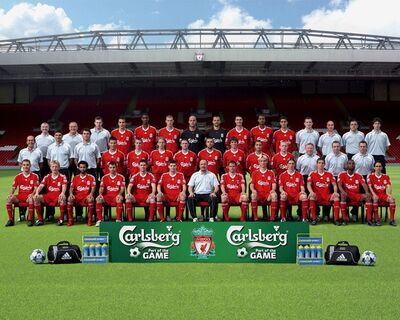 Friendlies
Edit
Pre-season
Edit
| Date | Opponent | Score | Scorers |
| --- | --- | --- | --- |
| 16 August 2008 | Sunderland | 1-0 | Torres (83) |
| 23 August 2008 | Middlesbrough | 2-1 | Pogatetz (og 86), Gerrard (90) |
| 31 August 2008 | Aston Villa | 0-0 | |
| 13 September 2008 | Man Utd | 2-1 | Brown (og 27), Babel (77) |
| 20 September 2008 | Stoke | 0-0 | |
| 27 September 2008 | Everton | 2-0 | Torres (59, 62) |
| 5 October 2008 | Man City | 3-2 | Torres (55, 73), Kuyt (90) |
| 18 October 2008 | Wigan | 3-2 | Kuyt (37, 85), Riera (80) |
| 26 October 2008 | Chelsea | 1-0 | Bosingwa (og 10) |
| 29 October 2008 | Portsmouth | 1-0 | Gerrard (pen 76) |
| 1 November 2008 | Tottenham | 1-2 | Kuyt (3) |
| 8 November 2008 | West Brom | 3-0 | Keane (34, 43), Arbeloa (90) |
| 15 November 2008 | Bolton | 2-0 | Kuyt (28), Gerrard (73) |
| 22 November 2008 | Fulham | 0-0 | |
| 1 December 2008 | West Ham | 0-0 | |
| 6 December 2008 | Blackburn | 3-1 | Alonso (69), Benayoun (79), Gerrard (90) |
| 13 December 2008 | Hull | 2-2 | Gerrard (24, 32) |
| 21 December 2008 | Arsenal | 1-1 | Keane (42) |
| 26 December 2008 | Bolton | 3-0 | Riera (26), Keane (53, 58) |
| 28 December 2008 | Newcastle | 5-1 | Gerrard (31, 66), Hyypia (36), Babel (50), Alonso (pen 77) |
| 10 January 2009 | Stoke | 0-0 | |
| 19 January 2009 | Everton | 1-1 | Gerrard (68) |
| 28 January 2009 | Wigan | 1-1 | Benayoun (41) |
| 1 February 2009 | Chelsea | 2-0 | Torres (89, 90) |
| 7 February 2009 | Porstmouth | 3-2 | Aurelio (69), Kuyt (85), Torres (90) |
| 22 February 2009 | Man City | 1-1 | Kuyt (78) |
| 28 February 2009 | Middlesbrough | 0-2 | |
| 3 March 2009 | Sunderland | 2-0 | N'Gog (52), Benayoun (65) |
| 14 March 2009 | Man Utd | 4-1 | Torres (28), Gerrard (pen 44), Aurelio (77), Dossena (90) |
| 22 March 2009 | Aston Villa | 5-0 | Kuyt (8), Riera (33), Gerrard (pen 39, 50, pen 65) |
| 4 April 2009 | Fulham | 1-0 | Benayoun (90) |
| 11 April 2009 | Blackburn | 4-0 | Torres (5, 33), Agger (83), N'Gog (90) |
| 21 April 2009 | Arsenal | 4-4 | Torres (49, 72), Benayoun (56, 90) |
| 25 April 2009 | Hull | 3-1 | Alonso (45), Kuyt (63, 89) |
| 3 May 2009 | Newcastle | 3-0 | Benayoun (22), Kuyt (28), Lucas (87) |
| 9 May 2009 | West Ham | 3-0 | Gerrard (2, 38), Babel (84) |
| 17 May 2009 | West Brom | 2-0 | Gerrard (28), Kuyt (63) |
| 24 May 2009 | Tottenham | 3-1 | Torres (31), Hutton (og 64), Benayoun (81) |
| Round | Date | Opponent | Score | Scorers |
| --- | --- | --- | --- | --- |
| 3 | 3 January 2009 | Preston North End | 2-0 | Riera (24), Torres (90) |
| 4 | 25 January 2009 | Everton | 1-1 | Gerrard (53) |
| 4 (R) | 4 February 2008 | Everton | 0-1 | |
League Cup
Edit
| Round | Date | Opponent | Score | Scorers |
| --- | --- | --- | --- | --- |
| 3 | 23 September 2008 | Crewe | 2-1 | Agger (15), Lucas (58) |
| 4 | 12 November 2008 | Tottenham | 2-4 | Plessis (48), Hyypia (62) |
Champions League
Edit
Qualifying stages
Edit
| Round | Date | Opponent | Score | Scorers |
| --- | --- | --- | --- | --- |
| 3 (1st leg) | 13 August 2008 | Standard Liege | 0-0 | |
| 3 (2nd leg) | 27 August 2008 | Standard Liege | 1-0 | Kuyt (117) |
Group stage
Edit
| Date | Opponent | Score | Scorers |
| --- | --- | --- | --- |
| 16 September 2008 | Marseille | 2-1 | Gerrard (26, pen 32) |
| 1 October 2008 | PSV Eindhoven | 3-1 | Kuyt (4), Keane (33), Gerrard (75) |
| 22 October 2008 | Athletico Madrid | 1-1 | Keane (14) |
| 4 November 2008 | Athletico Madrid | 1-1 | Gerrard (pen 90) |
| 26 November 2008 | Marseille | 1-0 | Gerrard (22) |
| 9 December 2008 | PSV Eindhoven | 3-1 | Babel (45), Riera (68), N'Gog (77) |
Knockout stages
Edit
| Round | Date | Opponent | Score | Scorers |
| --- | --- | --- | --- | --- |
| Last 16 (1st leg) | 25 February 2009 | Real Madrid | 1-0 | Benayoun (81) |
| Last 16 (2nd leg) | 10 March 2009 | Real Madrid | 4-0 | Torres (15), Gerrard (pen 28, 46), Dossena (87) |
| Quarter-final (1st leg) | 8 April 2009 | Chelsea | 1-3 | Torres (5) |
| Quarter-final (2nd leg) | 14 April 2009 | Chelsea | 4-4 | Aurelio (18), Alonso (pen 28), Lucas (81), Kuyt (83) |
Player stats
Edit
| Pos | Club | Pld | W | D | L | F | A | GD | Pts |
| --- | --- | --- | --- | --- | --- | --- | --- | --- | --- |
| 1 | Man Utd | 38 | 28 | 6 | 4 | 68 | 24 | 44 | 90 |
| 2 | Liverpool | 38 | 25 | 11 | 2 | 77 | 27 | 50 | 86 |
| 3 | Chelsea | 38 | 25 | 8 | 5 | 68 | 24 | 44 | 83 |
Champions League group stage
| Pos | Club | Pld | W | D | L | F | A | GD | Pts |
| --- | --- | --- | --- | --- | --- | --- | --- | --- | --- |
| 1 | Liverpool | 6 | 4 | 2 | 0 | 11 | 5 | 6 | 14 |
| 2 | Athletico Madrid | 6 | 3 | 3 | 0 | 9 | 4 | 5 | 12 |
| 3 | Marseille | 6 | 1 | 1 | 4 | 5 | 7 | −2 | 4 |
| 4 | PSV Eindhoven | 6 | 1 | 0 | 5 | 5 | 14 | −9 | 3 |
Transfers
Edit
| Player | From | Fee | Date |
| --- | --- | --- | --- |
| Philipp Degen | Borussia Dortmund | Free | 3 July 2008 |
| Andrea Dossena | Udinese | £7,000,000 | 4 July 2008 |
| Diego Cavalieri | Palmeiras | £3,500,000 | 11 July 2008 |
| David N'Gog | Paris St-Germain | £1,500,000 | 24 July 2008 |
| Robbie Keane | Tottenham | £20,300,000 | 28 July 2008 |
| Albert Riera | Espanyol | £8,000,000 | 1 September 2008 |
| Player | To | Fee | Date |
| --- | --- | --- | --- |
| John Arne Riise | Roma | £4,000,000 | 1 July 2008 |
| Harry Kewell | Free Transfer | Free | 1 July 2008 |
| Anthony Le Tallec | Le Mans | Undisclosed | 2 July 2008 |
| Peter Crouch | Portsmouth | £11,000,000 | 11 July 2008 |
| Danny Guthrie | Newcastle | £2,250,000 | 14 July 2008 |
| Scott Carson | West Brom | £3,250,000 | 18 July 2008 |
| Steve Finnan | Espanyol | Undisclosed | 31 August 2008 |
| Robbie Keane | Tottenham | £16,000,000 | 2 February 2009 |
| Jack Hobbs | Leicester | Undisclosed | 24 April 2009 |
| Sami Hyypia | Free Transfer | Free | 1 June 2009 |
| Jermaine Pennant | Real Zaragoza | Free | 1 July 2009 |