2007-08 season
General information
Manager
Captain
Performance
Premier League

4th

FA Cup

5th round

League Cup

5th round

Europe

Champions League: Semi-final

Top scorers
League

Torres (24)

FA Cup
League Cup

Torres (3)

Europe

Champions League: Kuyt (7)

Overall

Torres (33)

Attendances
Highest

44,459

Lowest

41,095

Average

43,532
The 2007-08 season was Liverpool's 116th season of football since they were established. This season was fairly successful for Liverpool, with them securing a Champions League spot for the next season after a fourth place finish, and making it to the semi-final of the Champions League. This success was mainly due to Fernando Torres who was in hot scoring form with 33 goals in all competitions.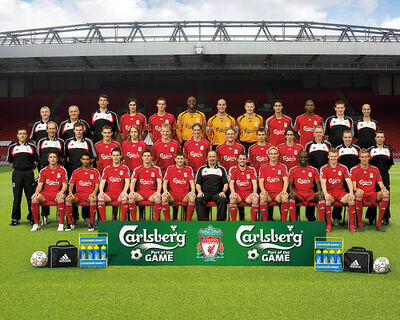 Friendlies
Edit
Pre-season
Edit
| Date | Opponent | Score | Scorers |
| --- | --- | --- | --- |
| 7 July 2007 | Wrexham | 3-2 | Idrizaj (4, 16, 26) |
| 14 July 2007 | Crewe | 3-0 | Peltier (21), Crouch (24), Putterill (58) |
| 17 July 2007 | Bremen | 3-2 | Voronin (4, 60), Arne Riise (14) |
| 20 July 2007 | Auxerre | 2-0 | Gerrard (44), Agger (69) |
| 24 July 2007 | South China | 3-1 | Arne Riise (10), Alonso (pen 27), Agger (73) |
| 27 July 2007 | Portsmouth | 0-0 | |
| 3 August 2007 | Shanghai Shenhua | 2-0 | Torres (12), Gerrard (64) |
| 5 August 2007 | Feyenoord | 1-1 | Gerrard (71) |
| Date | Opponent | Score | Scorers |
| --- | --- | --- | --- |
| 11 August 2007 | Aston Villa | 2-1 | Laursen (og 31), Gerrard (87) |
| 19 August 2007 | Chelsea | 1-1 | Torres (16) |
| 25 August 2007 | Sunderland | 2-0 | Sissoko (37), Voronin (87) |
| 1 September 2007 | Derby | 6-0 | Alonso (27, 69), Babel (45), Torres (56, 78), Voronin (76) |
| 15 September 2007 | Portsmouth | 0-0 | |
| 22 September 2007 | Birmingham | 0-0 | |
| 29 September 2007 | Wigan | 1-0 | Benayoun (75) |
| 7 October 2007 | Tottenham | 2-2 | Voronin (12), Torres (90) |
| 20 October 2007 | Everton | 2-1 | Kuyt (pen 54, pen 90) |
| 28 October 2007 | Arsenal | 1-1 | Gerrard (7) |
| 3 November 2007 | Blackburn | 0-0 | |
| 10 November 2007 | Fulham | 2-0 | Torres (81), Gerrard (pen 85) |
| 24 November 2007 | Newcastle | 3-0 | Gerrard (28), Kuyt (46), Babel (66) |
| 2 December 2007 | Bolton | 4-0 | Hyypia (17), Torres (45), Gerrard (pen 56), Babel (86) |
| 8 December 2007 | Reading | 1-3 | Gerrard (28) |
| 16 December 2007 | Man Utd | 0-1 | |
| 22 December 2007 | Portsmouth | 4-1 | Benayoun (13), Distin (og 16), Torres (67, 85) |
| 26 December 2007 | Derby | 2-1 | Torres (12), Gerrard (90) |
| 30 December 2007 | Man City | 0-0 | |
| 2 January 2008 | Wigan | 1-1 | Torres (49) |
| 12 January 2008 | Middlesbrough | 1-1 | Torres (71) |
| 21 January 2008 | Aston Villa | 2-2 | Benayoun (19), Crouch (88) |
| 30 January 2008 | West Ham | 0-1 | |
| 2 February 2008 | Sunderland | 3-0 | Crouch (57), Torres (69), Gerrard (pen 89) |
| 10 February 2008 | Chelsea | 0-0 | |
| 23 February 2008 | Middlesbrough | 3-2 | Torres (28, 29, 61) |
| 2 March 2008 | Bolton | 3-1 | Jaaskelainen (og 12), Babel (60), Aurelio (75) |
| 5 March 2008 | West Ham | 4-0 | Torres (8, 61, 81), Gerrard (83) |
| 8 March 2008 | Newcastle | 3-0 | Pennant (43), Torres (45), Gerrard (51) |
| 15 March 2008 | Reading | 2-1 | Mascherano (19), Torres (48) |
| 23 March 2008 | Man Utd | 0-3 | |
| 30 March 2008 | Everton | 1-0 | Torres (7) |
| 5 April 2008 | Arsenal | 1-1 | Crouch (42) |
| 13 April 2008 | Blackburn | 3-1 | Gerrard (60), Torres (82), Voronin (90) |
| 19 April 2008 | Fulham | 2-0 | Pennant (17), Crouch (70) |
| 26 April 2008 | Birmingham | 2-2 | Crouch (63), Benayoun (76) |
| 4 May 2008 | Man City | 1-0 | Torres (58) |
| 11 May 2008 | Tottenham | 2-0 | Voronin (69), Torres (74) |
| Round | Date | Opponent | Score | Scorers |
| --- | --- | --- | --- | --- |
| 3 | 6 January 2008 | Luton | 1-1 | Crouch (74) |
| 3 (R) | 15 January 2008 | Luton | 5-0 | Babel (45), Gerrard (52, 64, 72), Hyypia (57) |
| 4 | 26 January 2008 | Havant & Waterlooville | 5-2 | Lucas (27), Benayoun (44, 56, 59), Crouch (90) |
| 5 | 16 February 2008 | Barnsley | 1-2 | Kuyt (32) |
League Cup
Edit
| Round | Date | Opponent | Score | Scorers |
| --- | --- | --- | --- | --- |
| 3 | 25 September 2007 | Reading | 4-2 | Benayoun (23), Torres (50, 72, 86) |
| 4 | 31 October 2007 | Cardiff | 2-1 | El Zhar (48), Gerrard (66) |
| Quarter-final | 19 December 2007 | Chelsea | 0-2 | |
Champions League
Edit
Qualifying stages
Edit
| Round | Date | Opponent | Score | Scorers |
| --- | --- | --- | --- | --- |
| 3 (1st leg) | 15 August 2007 | Toulouse | 1-0 | Voronin (43) |
| 3 (2nd leg) | 28 August 2007 | Toulouse | 4-0 | Crouch (19), Hyypia (49), Kuyt (87, 90) |
Group stage
Edit
| Date | Opponent | Score | Scorers |
| --- | --- | --- | --- |
| 18 September 2007 | Porto | 1-1 | Kuyt (17) |
| 3 October 2007 | Marseille | 0-1 | |
| 24 October 2007 | Besiktas | 1-2 | Gerrard (85) |
| 6 November 2007 | Besiktas | 8-0 | Crouch (19, 89), Benayoun (32, 53, 56), Gerrard (69), Babel (79, 81) |
| 28 November 2007 | Porto | 4-1 | Torres (19, 78), Gerrard (pen 84), Crouch (88) |
| 11 December 2007 | Marseille | 4-0 | Gerrard (4), Torres (11), Kuyt (48), Babel (90) |
Knockout stages
Edit
| Round | Date | Opponent | Score | Scorers |
| --- | --- | --- | --- | --- |
| Last 16 (1st leg) | 19 February 2008 | Inter Milan | 2-0 | Kuyt (85), Gerrard (90) |
| Last 16 (2nd leg) | 11 March 2008 | Inter Milan | 1-0 | Torres (63) |
| Quarter-final (1st leg) | 2 April 2008 | Arsenal | 1-1 | Kuyt (26) |
| Quarter-final (2nd leg) | 8 April 2008 | Arsenal | 4-2 | Hyypia (30), Torres (69), Gerrard (pen 86), Babel (90) |
| Semi-final (1st leg) | 22 April 2008 | Chelsea | 1-1 | Kuyt (43) |
| Semi-final (2nd leg) | 30 April 2008 | Chelsea | 2-3 | Torres (64), Babel (117) |
Player stats
Edit
| Pos | Club | Pld | W | D | L | F | A | GD | Pts |
| --- | --- | --- | --- | --- | --- | --- | --- | --- | --- |
| 3 | Arsenal | 38 | 24 | 11 | 3 | 74 | 31 | 43 | 83 |
| 4 | Liverpool | 38 | 21 | 13 | 4 | 67 | 28 | 39 | 76 |
| 5 | Everton | 38 | 19 | 8 | 11 | 55 | 33 | 22 | 65 |
Champions League group stage
| Pos | Club | Pld | W | D | L | F | A | GD | Pts |
| --- | --- | --- | --- | --- | --- | --- | --- | --- | --- |
| 1 | Porto | 6 | 3 | 2 | 1 | 8 | 7 | 1 | 11 |
| 2 | Liverpool | 6 | 3 | 1 | 2 | 18 | 5 | 13 | 10 |
| 3 | Marseille | 6 | 2 | 1 | 3 | 6 | 9 | −3 | 7 |
| 4 | Besiktas | 6 | 2 | 0 | 4 | 4 | 15 | −11 | 6 |
Transfers
Edit
| Player | From | Fee | Date |
| --- | --- | --- | --- |
| Lucas | Gremio | £5,000,000 | 11 May 2007 |
| Krisztian Nemeth | MTK Hungaria | Undisclosed | 25 May 2007 |
| Mikel San Jose | Athletic Bilbao | £270,000 | 28 June 2007 |
| Sebastian Leto | Lanús | £1,800,000 | 1 July 2007 |
| Fernando Torres | Atletico Madrid | £20,200,000 | 4 July 2007 |
| Andriy Voronin | Leverkusen | Free | 6 July 2007 |
| Yossi Benayoun | West Ham | £5,000,000 | 12 July 2007 |
| Ryan Babel | Ajax | £11,500,000 | 13 July 2007 |
| Charles Itandje | Lens | Undisclosed | 9 August 2007 |
| Emiliano Insua | Boca Juniors | £1,300,000 | 26 August 2007 |
| Lauri Dalla Valle | JIPPO | £600,000 | 8 November 2007 |
| Martin Skrtel | Zenit St Petersburg | £6,500,000 | 11 January 2008 |
| Javier Mascherano | Media Sports Investment | £18,600,000 | 29 February 2008 |
| Daniel Ayala | Sevilla | £160,000 | 17 September 2009 |
| Player | To | Fee | Date |
| --- | --- | --- | --- |
| Daniele Padelli | Sampdoria | Loan expires | 8 June 2007 |
| Danny O'Donnell | Crewe | £100,000 | 13 June 2007 |
| Boudewijn Zenden | Marseille | Free | 1 July 2007 |
| Jerzy Dudek | Real Madrid | Free | 1 July 2007 |
| Robbie Fowler | Cardiff | Free | 1 July 2007 |
| Luis Garcia | Atletico Madrid | £4,000,000 | 3 July 2007 |
| Djibril Cisse | Marseille | £6,000,000 | 9 July 2007 |
| Craig Bellamy | West Ham | £7,500,000 | 10 July 2007 |
| Mark Gonzalez | Real Betis | £3,500,000 | 17 July 2007 |
| Gabriel Paletta | Boca Juniors | £1,200,000 | 26 August 2007 |
| James Smith | Stockport | Free | 28 December 2007 |
| Momo Sissoko | Juventus | £8,200,000 | 28 January 2008 |
| Lee Peltier | Yeovil | Free | 31 January 2008 |