1948-49 season
General information
Manager

George Kay

Captain

Jack Balmer

Performance
Division 1

12th

FA Cup

5th round

Top scorers
Attendances
Average

45,125
The 1948-49 season was Liverpool's 57th season of football since they were established.
Squad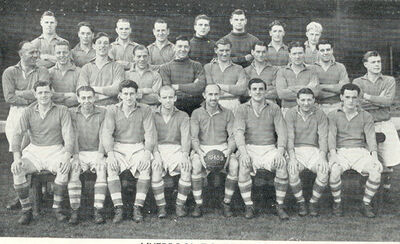 GK. Charlie Ashcroft
GK. Cyril Sidlow
GK. Ray Minshull
DF. Laurie Hughes
DF. Ray Lambert
DF. Bill Jones
DF. Eddie Spicer
DF. Bob Paisley
DF. Phil Taylor
DF. Bill Shepherd
DF. Joe Cadden
DF. John Heydon
DF. Steve Parr
MF. Billy Liddell
MF. Ken Brierley
MF. Jimmy Payne
MF. William Watkinson
MF. Bryan Williams
MF. Tommy McLeod
MF. Robert Priday
MF. Peter Kippax
MF. Doug McAvoy
MF. Alex Muir
FW. Jack Balmer
FW. Kevin Baron
FW. Albert Stubbins
FW. Cyril Done
FW. Willie Fagan
FW. Les Shannon
Note: Fixed squad numbers were not introduced until the 1993-94 season.
Friendlies
Pre-season
No pre-season friendlies were played this season.
Other friendlies
| Date | Opponent | Score | Scorers |
| --- | --- | --- | --- |
| 26 February 1949 | Newcastle United | 1-1 | Jones |
Results
League
| Date | Opponent | Score | Scorers |
| --- | --- | --- | --- |
| 21 August 1948 | Aston Vill | 1-2 | Balmer (73) |
| 25 August 1948 | Sheffield United | 3-3 | Balmer 2, Liddell |
| 28 August 1948 | Sunderland | 4-0 | Liddell (44), Fagan (47), Watkinson, Balmer (80) |
| 30 August 1948 | Sheffield United | 2-1 | Shannon (22), Liddell (48) |
| 4 September 1948 | Wolves | 0-0 | |
| 8 September 1948 | Arsenal | 1-1 | Liddell (50) |
| 11 September 1948 | Bolton | 0-1 | |
| 15 September 1948 | Arsenal | 0-1 | |
| 18 September 1948 | Everton | 1-1 | Fagan (80) |
| 25 September 1948 | Blackpool | 0-1 | |
| 2 October 1948 | Derby | 0-0 | |
| 9 October 1948 | Chelsea | 1-1 | Payne (87) |
| 16 October 1948 | Birmingham | 1-0 | Done (37) |
| 23 October 1948 | Middlesbrough | 4-0 | Balmer (25), Stubbins (75), Liddell (pen 77), Whitaker (og 89) |
| 30 October 1948 | Newcastle | 0-1 | |
| 6 November 1948 | Portsmouth | 3-1 | Liddell (9), Balmer (18), Done (77) |
| 13 November 1948 | Man City | 4-2 | Payne (10), Done (12, 20), Taylor (30) |
| 20 November 1948 | Charlton | 1-1 | Done (21) |
| 27 November 1948 | Stoke | 0-3 | |
| 4 December 1948 | Burnley | 1-1 | Done (79) |
| 11 December 1948 | Preston | 2-3 | Done (24, 54) |
| 18 December 1948 | Aston Villa | 1-1 | Done (10) |
| 25 December 1948 | Man Utd | 0-0 | |
| 27 December 1948 | Man Utd | 0-2 | |
| 1 January 1949 | Sunderland | 2-0 | Hall (og 11), Liddell (pen 86) |
| 22 January 1949 | Bolton | 3-0 | Balmer (14), Stubbins (70), Gillies (og 75) |
| 5 February 1949 | Everton | 0-0 | |
| 19 February 1949 | Blackpool | 1-1 | Balmer (25) |
| 5 March 1949 | Chelsea | 1-2 | Payne (34) |
| 12 March 1949 | Birmingham | 1-0 | Done (59) |
| 19 March 1949 | Charlton | 1-2 | Balmer (35) |
| 26 March 1949 | Stoke | 4-0 | Stubbins (?, ?), Done (67), Balmer (88) |
| 2 April 1949 | Portsmouth | 2-3 | Stubbins (52), Paisley (54) |
| 6 April 1949 | Wolves | 0-0 | |
| 9 April 1949 | Man City | 0-1 | |
| 15 April 1949 | Huddersfield | 0-1 | |
| 16 April 1949 | Middlesbrough | 1-0 | Balmer (6) |
| 18 April 1949 | Huddersfield | 4-0 | Balmer (18, 84), Baron (24), Liddell (40) |
| 23 April 1949 | Newcastle | 1-1 | Baron (55) |
| 30 April 1949 | Burnley | 2-0 | Balmer (85), Stubbins (88) |
| 4 May 1949 | Derby | 0-3 | |
| 7 May 1949 | Preston | 0-2 | |
FA Cup
| Round | Date | Opponent | Score | Scorers |
| --- | --- | --- | --- | --- |
Tables
League
| Pos | Club | Pld | W | D | L | F | A | G. Avg | Pts |
| --- | --- | --- | --- | --- | --- | --- | --- | --- | --- |
| | | | | | | | | | |
| | | | | | | | | | |
| | | | | | | | | | |
Player stats
Pos.
Name
League
FA Cup
Total
Apps
Goals
Apps
Goals
Apps
Goals
Transfers
In
Out